Cleopatra in Space is an American animated TV series based on the graphic novel series of the same name by Mike Maihack. The series is produced by DreamWorks Animation, and animated by Titmouse, Inc. It officially premiered with 12 episodes in the United States nationwide as a "Peacock Original" on Peacock on July 15, 2020; though the first five episodes were made available on the service on April 15, exclusively for Xfinity customers.[1][2] Later, six episodes from the second half, deemed "Season 2" by Peacock,[3] was released on November 19, 2020.[4][5][6]
Before the US release, the series first premiered worldwide on DreamWorks Channel in Southeast Asia on November 25, 2019, with several other networks and services following suit.
Plot
Cleopatra in Space is a comedic adventure focusing on the untold story of Cleopatra's teenage years. Viewers can follow Cleo as she is transported 30,000 years into the future, to an Egyptian-themed planet that is ruled by talking cats and where she discovers she is the prophesied savior of the future world. In order to prepare for her role and mission, Cleo is sent to an elite academy where she has to train to take on the bad guys, figure out how to eventually get herself back home to Egypt, as well as tackling the highs and lows of being a teenager in high school.
Cast and characters
Main
Supporting
Minor
History
Episodes
Release
Cleopatra in Space was initially planned to debut on Universal Kids in the United States, a channel which hosts many DreamWorks cartoons. Later, it was emerged in January 2020 that the series would instead be released at launch on Peacock, NBCUniversal's streaming service. The first five episodes were released as a preview on the streaming service on April 15, 2020, but only exclusively for Xfinity customers. Later, the series officially released on July 15 to all customers nationwide, with the first 12 episodes (excluding "Quarantine" for unknown reasons). On November 19, 2020, the next six episodes were added to Peacock.
Prior to the scheduled release in the United States, the series premiered worldwide on November 25, 2019 on DreamWorks Channel in Southeast Asia. Along with the original English version, an Arabic and Indonesian dub are also broadcast. Later, the series would premiere in Poland on Teletoon+ on February 15, 2020 with a Polish dub. The series was then made available in South Africa on Showmax by February 23, 2020, which included all 26 episodes of season 1. Similarly, all 26 episodes were made available on the Viaplay service in Scandinavia on June 5, 2020, featuring Danish, Norwegian, Swedish, and Finnish dubs.
On May 1, 2020, the entire first season of Cleopatra in Space was released on Globoplay with a Brazilian Portuguese dub. On August 4, 2020, the series premiered on ABC Me in Australia, and the first season finished its run on the 29th. In September 2020, the show began airing on the Disney Channel in Russia with the name "Клеопатра в космосе." Then in October, in the UK, the show began airing on Sky One as part of a partnership with NBC Universal. Currently, the Sky One website allows subscribers to their "Sky Go" service to watch 25 episodes, but not episode 6, "Quarantine." When asked about this, Sky UK stated that this was not included because of the "licensing on the episode."
Gallery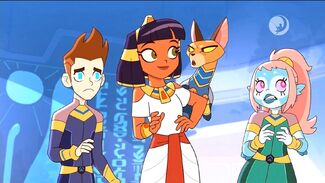 The image gallery for Cleopatra in Space (TV series) may be viewed here.
Trivia
Videos
References