"Parasites"[2] is the first episode in Season Three of the Cleopatra in Space TV series.
Official Synopsis
"
Mihos has some parasites making him sick, and Cleo and the rest have to shrink down tiny to cure him. This one turns out weirder than you're expecting.[2]
"
Characters
Locations
Plot
TBA
Broadcast
TBA
Title in other languages
TBA
Gallery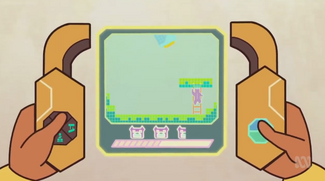 The image gallery for Parasites may be viewed here.
Notes
Trivia
This episode may be a parody/homage of films like "Honey I Shrunk the Kids" and "Honey, We Shrunk Ourselves", along with other movies that focus on miniature people, and episodes like "Parasites Lost" of Futurama.
The parasite in Mihos' brain may be a homage to the parasitic alien race Goa'uld (pronounced "Go-ah-oold") from the TV show Stargate SG-1 and its associated franchise. Like the Goa'uld symbiote, this parasite is a slimy snake-like creature that attaches itself to the host's central nervous system; and is capable of influencing host behavior.
Continuity
This is the fifth episode in which Doctor Queed has appeared in the series.
References